SKIN TIGHTENING WITH RADIO FREQUENCY, INTENSIVE ENERGY LIGHT AND HIFU
Field of ​​application skin tightening - an overview
Skin tightening with radio frequency, high-energy light and HIFU
Many people suffer from the fact that the skin loses its elasticity with increasing age and then feels like it has become a size too big. Depending on lifestyle and genetics, the first wrinkles or folds appear, the contours begin to sag, the pores enlarge and the skin loses its elasticity. The even, youthful complexion changes. This creates frustration and often affects one's self-esteem.
With radio frequency, high-intensity focused ultrasound (HIFU), laser or pulsed light, effective and gentle treatments can now be carried out to correct these signs of aging and to improve the complexion visibly and over the long term.
Since founding in 1999, MBC Medical Bio Care has specialized in selling innovative instrument-based aesthetic systems. Right from the start, our customers achieve excellent and lasting results in combination with professional high-tech beauty equipment and aesthetic expertise. Our success often lies in the combination of different, most modern and most effective technologies.
This is how our devices achieve lasting results and restore previous skin structures while taking naturalness into account. This is our claim for each of the devices we offer. The aim of each application is to regain the glow of the skin and also the firmness and firmness of the tissue. It is important to improve the skin on all levels and treat it effectively.
The high-performance device technologies from MBC Medical Bio Care are among the best and newest technologies on the market to regenerate and build up your customers' skin. In addition to the high effectiveness of our user-friendly systems, the applications are characterized by only a low risk of side effects without long regeneration times and almost painless treatments.
Skin Tightening Devices:
What Should You Consider When Buying?
Every technology for medical and cosmetic use has advantages and disadvantages. In order for your planned investment in a professional and efficient skin tightening device to be long-term and successful for your business, the following Criteria important if you want to buy the right device for you:
Sustainable effectiveness and safety thanks to the latest safety technology, which enables effective and selective treatment of the hair roots of visible hair with high power of the light pulses
Numerous areas of application on all parts of the body and body areas, such as face, legs, back, bikini zone, genital area
Different individual intensity levels of the light pulses
Safe treatment for all skin types and tanned skin
Fast application, short treatment times
Treatment that is as painless and safe as possible
Comfort for the user
Economics of the device – how long does a handpiece last?
Reliable service 24/7, even after the purchase
Quick and easy solutions in case of a device problem
Renowned manufacturer
Reliable technology tested over many years
Operating instructions and professional, competent training
And above all: Is your device innovative and technically up to date? Can you offer your customers a unique treatment that differentiates you from the treatments already available in your region?

The HYPERPULSE, HYPERPULSE BST, HIFU DOUBLO GOLD and 3D-ULTIMATE devices offered by MBC PRO meet all of these criteria 100%.
Various devices and technologies are available to you at MBC Medical Bio Care for skin tightening treatments on the face and body. Various effective technologies are used here:
– Radio Frequency (RF) Skin Tightening
– High Energy Light (Light Pulses) Skin Tightening
– HIFU (High Intensity Focused Ultrasound) Skin Tightening
Radio Frequency Skin Tightening vs. HIFU Skin Tightening vs. Pulsed Light Skin Tightening in Cosmetics:
What Are the Differences?
Skin tightening with radio frequency:
In a skin tightening with radio frequency, the skin is heated in a controlled manner over a certain period of time without pain. The radio frequency waves vibrate the water molecules in the deep dermis layer of the skin. This creates friction in different skin levels. The result is controlled heating of the deeper skin layers. This warming causes a shrinking process in which expanded collagen fibers contract again and the connective tissue is strengthened and strengthened through the formation of new collagen and elastin. Wrinkles are smoothed out, the tissue becomes taut and plump again and hanging contours on the cheeks are visibly improved.
Skin Tightening with HIFU (High Intensity Focused Ultrasound):
In contrast to conventional methods, HIFU can penetrate deeper into the skin and provide much more controlled heating there. HIFU is a very intense, focused, high-frequency ultrasound in which several layers of skin are heated one after the other within a very short time. This selective effect of the HIFU energy causes cellular friction of the molecules on the respective treatment levels. Selective heating up to 60 degrees is generated. These heat points are called thermo coagulation points. During a treatment session, several hundred Thermo Coagulation Points are released into the treatment area. The result is a contraction of the cells at the molecular level - a shrinking effect sets in, which means that the skin appears noticeably firmer immediately after the treatment. In addition, the body's own regeneration processes are set in motion in the skin, which result in a high level of new collagen and elastin formation.


Creation of Thermo Coagulation Points
Skin tightening with high-energy light (pulsed light):
The special treatment light is absorbed by the vascular system within the dermis and converted into heat there. The upper skin layer is hardly stressed. During application, a feeling of warmth develops on the skin, which is usually accepted without any problems. The deep and controlled heating triggers healing and regeneration processes. The consequence of this is the formation of new collagen and elastin (neocollagenesis). The structure of the collagen fibers is activated and the skin is tightened. The entire skin structure is also visibly improved, pores are refined and lines and wrinkles are smoothed.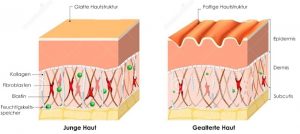 Our technologies for skin tightening
DOUBLO GOLD
Application: Skin tightening, lifting, wrinkle treatment, contour improvement


Areas:
Face and body

Technology:
HIFU (High Intensity Focused Ultrasound)






HYPERPULSE BST
Application: skin tightening, rejuvenation, anti-aging, couperose/rosacea/haemangioma, inflammatory acne,
permanent hair removal
Areas:
face and body
Technology:
High energy light (pulse light)
HYPERPULSE


Application: skin tightening, rejuvenation, anti-aging,
Couperose/Rosacea/
Haemangiomas, inflammatory acne,
Permanent hair removal
Areas:
Face, cleavage, hands
Technology:
High energy light (pulsed light)
3D-ULTIMATE PRO
Application: skin tightening, contour improvement, treatment of fat deposits, body treatments
Areas:
Face and body
Technology:
Radio frequency with vacuum, ultrasonic cavitation , cryolipolysis, shock wave
Why MBC Medical Bio Care?
Since it was founded in 1999, MBC Medical Bio Care GmbH has specialized in the sale of innovative aesthetic systems. Right from the start, our customers achieve excellent and lasting results in combination with professional high-tech beauty equipment and aesthetic expertise.
Experience from our own institutes
Right from the start, 
that is, for over 20 years
Medical Bio Care via the institute's own Perfect Skin line. Here
all MBC devices are extensively tested for their effectiveness and technical reliability before they are sold.
After the devices have been introduced, individual studies are carried out and empirical values ​​are logged.
In this way, we ensure our own constantly growing expertise in the optimal implementation of treatments. Through the experiences from our own institutes and the evaluation of the experiences and questions of MBC customers
we have accumulated an enormous amount of theoretical, but above all practical expertise
.
Our customers benefit enormously from this.
We have been convincing you of our products and our service quality since 1999
Our
highly competent, 
in-house service
solves technical problems in usually
within 48h
. You can reach us at any time and
get help and a solution quickly, professionally and easily
. We can thus rule out long downtimes for your device.