Area of ​​application Acne device / treatment - an overview
Acne - not just an aesthetic problem
Acne is an inflammatory skin disease that can occur to varying degrees in both adolescents and adults. The list of forms of acne is long, the list of medicines and cosmetics seems endless – unfortunately, so does the list of side effects. And the sad thing is, the results that are achieved in treating acne are seldom entirely satisfactory.
Many people suffer from this aesthetic skin problem and are tired of concealing the external signs. In addition, the affected skin is often painfully inflamed and hypersensitive to external environmental influences. They are looking for acne treatment/devices that will successfully remove the noticeable and unsightly skin condition and reduce and improve the outward signs of acne.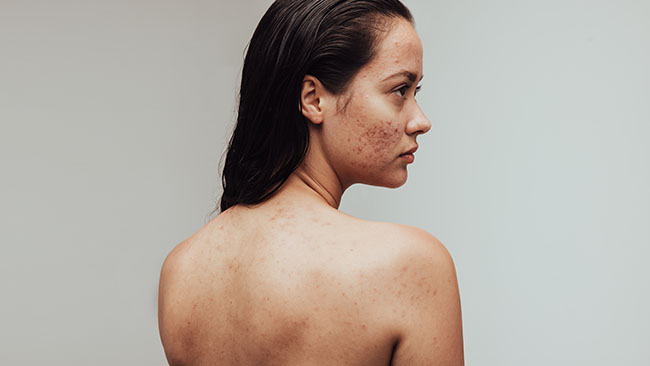 Acne vulgaris (inflammatory acne):
This is the most common form of acne, luckily also the least dangerous. Almost every teenager sooner or later suffers from this common form of acne. Thorough cleaning of the skin and professional removal of the blackheads can prevent scarring.
Acne comedonica:
Acne comedonica is a form that is quite similar to acne vulgaris. Only the inflammatory pimples appear much more frequently. Both acne vulgaris and acne comedonica are milder variants. Here the correct cleaning and professional cleaning of the blackheads is also extremely important to prevent later scarring.
Papulosa acne:
In papulosa acne, the number of blackheads and pimples (comedones) is significantly increased, and they occur almost everywhere. With professional treatment, there is hardly any scarring.
Papulopustulosa acne:
Unfortunately, this is no longer the case with papulopustulosa acne. When this form of inflammation heals, it sometimes leaves deep scars. Unfortunately, in the worst case scenario, cysts can even form with this type of acne if several purulent pimples flow together and connect.
Acne conglobata:
This is the most severe form of acne. The foci of pus can no longer only be found in pimples, but also in nodular thickening of the skin, which can sometimes even swell into small bumps. In addition, fistulas often develop that sit deep under the skin and are filled with pus. In the case of acne conglobata, deep and conspicuous scars are unfortunately the rule after healing. Unfortunately, the course of a form of acne is unpredictable and can last for many years, which can lead to rough scarring. Not to be neglected is the fact that those affected suffer psychologically from acne.
Devices for the treatment of inflammatory acne: what should you consider when buying?
Every acne device for medical and cosmetic aesthetic treatment naturally has  advantages and disadvantages. In order to make the right decision to buy a professional and efficient acne device for excellent reduction of active acne on the face and body, you should consider the following criteria.
Sustainable effectiveness and security through the latest security technology
High effect, quickly visible, long-lasting effects and results with optimal treatment success and improvements
Numerous areas of application and treatment options
Different, individually adjustable intensity levels and precise energy delivery
Fast application, short treatment times
As painless and safe treatment without anesthesia as possible
Convenience for the user and the economics of the acne device
Renowned manufacturer
Reliable technology tested over many years and warranty
Operating instructions and professional competent training
Fast and competent service in case of a device problem
Which company not only supports you before the purchase, but is also at your side afterwards?
And above all:
is your device innovative and technically up to date?
Can you offer your patients a unique treatment with a powerful acne device and thus differentiate yourself from the existing range of treatments in your region?
The HYPERPULSE MASTERLITE and HYPERPULSE BST acne devices offered by MBC Medical Bio Care meet all of these criteria 100%. When you buy an MBC device, you are opting for a high-performance device with the latest technology Technology. This ensures successful use in your practice and with your demanding patients for aesthetic treatments on the face and body and nothing stands in the way of your personal business success.
Our acne devices for the successful treatment of inflammatory acne
HYPERPULSE™ MASTERLITE
Multifunctional platform
Application: treatment of inflammatory acne,
skin tightening (
face, cleavage, hands)
,
Rejuvenation, anti-aging,
couperose/rosacea/haemangiomas, pigment treatments, 

permanent hair removal
HYPERPULSE BST™
Multifunctional platform
Application:
Treatment of inflammatory acne
, skin tightening, rejuvenation, anti-aging, 
Couperose/Rosacea/Haemangioma,

Pigment treatments,
Permanent hair removal
BST: Body Skin Tightening
additional function for skin tightening on the body
Behandlung von entzündlicher Akne mit den Akne Geräten HYPERPULSE MASTERLITE & HYPERPULSE BST
The special treatment light from the blue wavelength spectrum is absorbed by the porphyrin in the inflamed sebaceous glands and converted into local heat energy. This controlled heating can effectively combat and reduce the P-acne bacteria. At the same time, oxygen radicals are formed, which represent another positive aspect in the reduction of P-acne bacteria. This has a positive effect on the inflammation and leads to a quickly visible and lasting soothing of the skin. The complexion becomes visibly cleaner and more relaxed.
Is the treatment painful?
The extremely effective application is carried out with relatively low energy densities. It is therefore not very painful and is very well tolerated. Anesthesia is not necessary.
Do patients need a regeneration time after the application?
The stress on the upper layers of the skin is low, after the treatment the skin may be temporarily reddened. This usually returns to normal within a few hours. A regeneration period after the treatment is therefore usually not necessary and patients can quickly resume their usual activities.
How many sessions are necessary?
A treatment course consisting of 6-10 treatments at weekly intervals is usually required.

Why MBC Medical Bio Care?
Since it was founded in 1999, MBC Medical Bio Care GmbH has specialized in the sale of innovative aesthetic systems. Right from the start, our customers achieve excellent and lasting results in combination with professional high-tech beauty equipment and aesthetic expertise.
We have been convincing you of our service quality since 1999
When you buy an MBC acne device, you benefit from the many advantages of our unique technologies. Due to the excellent treatment comfort and the clearly visible results, patient satisfaction is very high, which results in a significant recommendation rate. The company MBC Medical Bio Care GmbH, which is exclusively responsible for the sale of the devices, is not only at your side before the purchase, but also afterwards with a technically competent training, comprehensive support and fast and professional service for the device technology.
Experience from our own institutes
Right from the start, 
that is, for over 20 years
Medical Bio Care via the institute's own Perfect Skin line. Here
all MBC devices are extensively tested for their effectiveness and technical reliability before they are sold.
After the devices have been introduced, individual studies are carried out and empirical values ​​are logged.
In this way, we ensure our own constantly growing expertise in the optimal implementation of treatments. Through the experiences from our own institutes and the evaluation of the experiences and questions of MBC customers
we have accumulated an enormous amount of theoretical, but above all practical expertise
.
Our customers benefit enormously from this.
Would you like to find out more about our technologies?

Request information material now: